Sponsor A Seat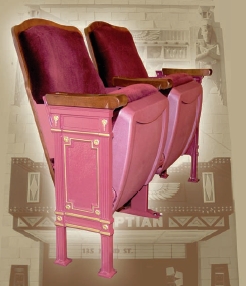 Help Reclaim the Glamour of the Egyptian Theatre
The Egyptian Theatre is a 1929, fully restored, Egyptian Art Deco movie palace, that is operated and staffed by the volunteer non-profit group, P.E.T. Inc. (Preservation of Egyptian Theatre, Inc.). Listed on the Registry of Historic Places, the Egyptian is home to over 25 local performing arts groups, shows classic films and is host to over 125 events every year.
Thanks to the support of the community we were able to replace the original seats from 1929 with new theatre seats in the summer of 2011. While this project has been accomplished there will always be restoration projects that need to be done. You still have the opportunity to sponsor a new seat.
The Egyptian Theatre Seating Sponsorship offers you a unique opportunity to create a prominent legacy in this historic landmark. Your donation to the Egyptian Theatre will place the name of your family, friend or business in the spotlight. Your donation is commemorated with a personalized elegant brass plaque that will be mounted on the arm rest of a new seat.
Please consider making a donation to The Egyptian Theatre Seating Sponsorship Campaign and help continue the preservation of this treasure in our community. This was the first time since 1929 that the seats were replaced. What a wonderful and special opportunity to get involved!
Some Reasons to Sponsor a Seat:
-Leave a legacy for loved ones (children, grandchildren)
-Celebrate a special day (wedding, engagement, anniversary, graduation) or achievement
-Memorialize a loved one
-Celebrate your family name
-Honor your club or business
-Include YOUR name in Theatre history
Seat sponsors must still purchase tickets to any performance at the Egyptian Theatre and are not guaranteed seating in chairs bearing their names.
All contributions are tax deductible within the limits of federal and state laws.
Any and all contributions to the Egyptian Theatre Seating Campaign are non-refundable.