Building Expansion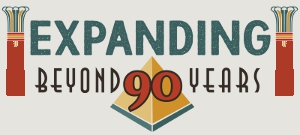 We are building a two story addition with basement off the south side of the theatre lobby to accommodate a dramatic increase in restroom facilities, concessions, storage, and for the first time since the theatre opened in 1929...air conditioning. This will allow the theatre to be open year-round with programming for the first time. This project will have a substantial positive economic and cultural impact on the community.
It will also significantly improve the ongoing preservation efforts of the historic building that is listed on the National Registry of Historic Places, named in the Top 20 Architectural Treasures by the State of Illinois Tourism, and named 1 of 150 Great Places in Illinois by the American Institute of Architects.
The Egyptian Theatre currently welcomes over 40,000 people through our doors each year. These patrons come from 36 different states and 47 counties in Illinois resulting in over $2 million in direct economic impact. Current projections show year-round programming will increase attendance to over 54,000 with a total direct economic impact in excess of $3 million. This is an increase of 14,000 patrons and $1 million in economic impact. Those numbers are anticipated to grow through the years as year-round programming ramps up. Your support will help us Expand Beyond 90 Years!
Visit our
WEBSITE
for more details on the project and a list of donors.