Beth Fowler Dance Company - The Nutcracker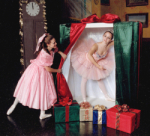 The Beth Fowler Dance Company will present its 30th Annual production of "The Nutcracker". Many area families have made this magical production a part of their holiday tradition every year. With the beautiful dancing, costumes and stage sets, this favorite holiday classic will tell a story that will make everyone feel like a child at Christmas. With the wave of the Christmas Fairy's magic wand, she makes visions appear of young Clara and her family celebrating Christmas! When the Christmas Eve party guests leave, Clara falls asleep and dreams of toy soldiers and rats battling in her living room, then adventures through a Snowy Forest to the Land of the Sweets. Overwhelmed by her adventures, Clara wonders if it was all just a dream!
Tickets go on sale to the general public on Wednesday, October 25 at 10:00 AM.


RESERVED TICKET PRICES
Regular: $21 Adult / $15 Child 12 & Under
Premium: $26 Adult / $20 Child 12 & Under
Starting November 27, 2023
Regular: $24 Adult / $15 Child 12 & Under
Premium: $29 Adult / $20 Child 12 & Under
Kids age 3 and under are free but MUST still have a ticket to enter. These free tickets can be reserved online with your order, over the phone at 815-758-1225, or at the door prior to the performance.