The Magic of Bill Blagg LIVE!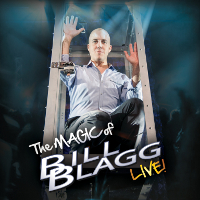 The Magic of Bill Blagg Live! tour returns to the Egyptian Theatre by popular demand with NEW MAGIC!! Critics and audiences alike rave about Bill's interactive magic & jaw-dropping illusions that will have you rubbing your eyes in disbelief.

Blagg's show combines his mind-blowing magical talents along with his trademark off-the-cuff personality to take you on a magical journey you'll never forget! You'll witness objects float in mid-air, vanish in the blink of an eye and so much more! The Magic of Bill Blagg Live! is more than a magic show, it's an interactive magic experience!

"Unbelievable!" - USA Today

"Absolutely Incredible!" - Chicago Tribune
TICKET PRICES
Regular: $25 Adult / $20 Students and Kids
Premium: $35 Adult / $30 Students and Kids
Gold Circle: $45 Adult / $40 Students and Kids

Pricing based on how close to the stage you are (see seat map on next page)

COVID-19 Restrictions: Please check our website for the most up to date guidelines. If you have any questions or concerns please contact the Theatre.