Beth Fowler Dance Company - Sleeping Beauty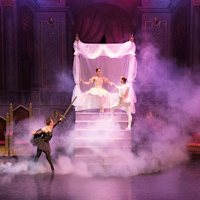 The Beth Fowler Dance Company of Genoa and St. Charles present "The Sleeping Beauty" ballet. The ballet based on a classic fairy tale is a masterpiece of dance drama created in the 19th century through a collaboration of ballet master Marius Petipa and Russian composer Peter Tchaikovsky. The ballet is now seen and heard throughout the world, delighting young and old with the magic and wonder of the young Princess who slept 100 years and is awakened by the kiss of a Prince. The audience will be delighted to see favorite story book characters who are special guests at the wedding of Sleeping Beauty and the Prince. Including Snow White, Little Red Riding Hood and Cinderella to name a few.
Tickets go on sale to the general public on Wednesday, February 16 at 10:00 AM.

RESERVED TICKET PRICES
Regular: $21 Adult / $15 Child 12 & Under
Premium: $26 Adult / $20 Child 12 & Under

Starting March 7
Regular: $24 Adult / $15 Child 12 & Under
Premium: $29 Adult / $20 Child 12 & Under

Kids age 3 and under are free but MUST still have a ticket to enter. These free tickets can be reserved online with your order, over the phone at 815-758-1225, or at the door prior to the performance.

COVID-19 Restrictions: Please check our website for the most up to date guidelines. If you have any questions or concerns please contact the Theatre.