Movie: Hocus Pocus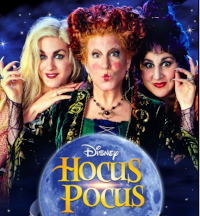 The DeKalb Chamber of Commerce spookily presents Hocus Pocus. It's been 300 years and now the Sanderson sisters are back and Salem has never been the same! But the new kid in town, Max, his sister Dani, their new friend Allison and a magical cat, Binx are here to stop them. Make sure you BOOOOK your tickets now! Sponsored by: T-Mobile
RESERVED TICKET PRICES
Adult - $5
Child 12 & Under - $2

COVID-19 Restrictions: All attendees must wear a mask covering their mouth and nose at all times while in the building; can be removed while sitting in your seats. All tickets will be reserved to allow for social-distancing. Entry times will be staggered to avoid crowding. Extremely limited capacity is in place to meet current health guidelines. If you have any questions or concerns please contact the Theatre. A more detailed listing of current restrictions and refund policy can be found here on our website.

If you are experiencing any of these symptoms, stay home and do not attend this event:
>Cough
>Fever of 100.4 and above
>Shortness of breath
>Chills
>Headache
>Loss of taste/smell
>Muscle pain
>Shaking with chills
>Sore throat

Ticket Holder contact information may be disclosed to Health Department officials in the event of a potential exposure to assist in contact tracing.