Beth Fowler Dance Company - Nutcracker: The Movie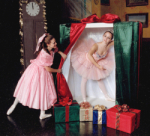 The Beth Fowler Dance Company has converted it's 27th annual production of the Nutcracker into "Nutcracker: The Movie!" Audiences will enjoy this new version prepared for the big screen with added dialogue, a new extended storyline romance, green screen effects, and additional filming locations. Many area families have made this magical production a part of their holiday tradition every year. With the beautiful dancing, costumes and stage sets, this favorite holiday classic will tell a story that will make everyone feel like a child at Christmas. With the wave of the Christmas Fairy's magic wand, she makes visions appear of young Clara and her family celebrating Christmas! When the Christmas Eve party guests leave, Clara falls asleep and dreams of toy soldiers and rats battling in her living room, then adventures through a Snowy Forest to the Land of the Sweets. Overwhelmed by her adventures, Clara wonders if it was all just a dream!
RESERVED TICKET PRICES
$25 - Adults (13 and older)
$20 - 12 & under

COVID-19 Restrictions: Masks are now optional for patrons, staff, volunteers, and performers who have been fully vaccinated.

We ask all of those that are unvaccinated to continue to follow CDC and state guidance, the unvaccinated should continue to wear a mask and social distance. The health and safety of all who visit the Egyptian Theatre remain our top priority.

We will continue to follow enhanced safety and cleaning protocols, provide hand sanitizer throughout the building, and comply with all applicable CDC, state, and local guidelines. By working together, we can keep everyone safe and get back to bringing entertainment to all.

If you have any questions or concerns please contact the Theatre. A more detailed listing of current restrictions and refund policy can be found here on our website.

If you are experiencing any of these symptoms, stay home and do not attend this event:
Cough, Fever of 100.4 and above, Shortness of breath, Chills, Headache, Loss of taste/smell, Muscle pain, Shaking with chills, or Sore throat.