Beth Fowler Dance Company - Wizard of Oz & More - On the Big Screen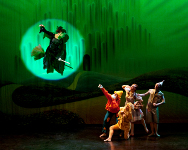 The Beth Fowler Dance Company presents excerpts from Wizard of Oz, Paquita & More performed by dancers through high school. These performances will be professionally filmed and shown on the big screen! Watch these amazing performances on the biggest movie screen in DeKalb County.
RESERVED TICKET PRICES
$25 - Adults (13 and older)
$20 - 12 & under

July 29, 2021 COVID-19 Restrictions Update
Effective immediately, until further notice, masks are required for all patrons, staff, and volunteers (regardless of vaccination status) inside the Egyptian Theatre. This is a result of updated guidance from the DeKalb County Health Department, Illinois Department of Public Health, and the CDC. Due to the increasing cases and positivity rate of COVID-19 in DeKalb County and throughout the State/Country this updated policy will be in place until further notice.

We will continue to monitor the ever-changing guidance and update our policies accordingly. The most up to date information can be found on our website and sent via email to ticket holders prior to events.

We will continue to follow enhanced safety and cleaning protocols, provide hand sanitizer throughout the building, and comply with all applicable CDC, state, and local guidelines.

If you have any questions or concerns please contact the Theatre. A more detailed listing of current restrictions and refund policy can be found here on our website.

If you are experiencing any of these symptoms, stay home and do not attend this event:
Cough, Fever of 100.4 and above, Shortness of breath, Chills, Headache, Loss of taste/smell, Muscle pain, Shaking with chills, or Sore throat.