A Brother's Revival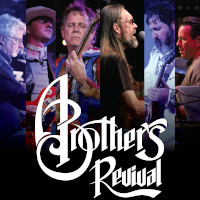 A Brother's Revival came together in 2019 as a celebration of the 50th Anniversary of The Allman Brothers Band. Former member, David Goldflies (78-82) and Mike Kach (singer/keyboard for Dickey Betts and Great Southern) joined forces to honor David''s former band. It is the most authentic Allman Brothers Band tribute that includes the fan''s favorite songs in their original format, just as they were performed when David toured with Greg, Dickey, Butch, and Jaimoe. Fan favorites include "Ramblin Man", "Melissa", "In Memory of Elizabeth Reed", "Southbound", "Whipping Post", "Blue Sky", "One Way Out", "Soulshine", "Revival" and so many others. The stage is set up just at The Allman Brothers Band set the stage during their most iconic years, including dual drum kits, timpani and a Hammond B-3 organ. A socially distanced concert with limited capacity.
Reserved Ticket Prices
$55 / $45 / $35 / $25
Pricing based on how close to the stage you are (see seat map on next page)



COVID-19 Restrictions:
Masks are now optional for patrons, staff, volunteers, and performers who have been fully vaccinated.
We ask all of those that are unvaccinated to continue to follow CDC and state guidance, the unvaccinated should continue to wear a mask and social distance. The health and safety of all who visit the Egyptian Theatre remain our top priority.
We will continue to follow enhanced safety and cleaning protocols, have modified concessions, provide hand sanitizer throughout the building, and comply with all applicable CDC, state, and local guidelines. By working together, we can keep everyone safe and get back to bringing entertainment to all.
If you have any questions or concerns please contact the Theatre. A more detailed listing of current restrictions and refund policy can be found
here on our website
.
If you are experiencing any of these symptoms, stay home and do not attend this event:
>Cough
>Fever of 100.4 and above
>Shortness of breath
>Chills
>Headache
>Loss of taste/smell
>Muscle pain
>Shaking with chills
>Sore throat