Dimensions Dance Academy - Alice in Wonderland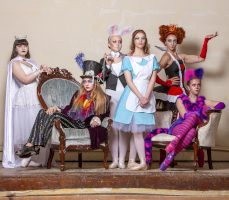 Dimensions Dance Academy presents "Alice in Wonderland". Come join Alice as she dances her way through Wonderland! During Alice's adventure she will encounter all your favorite characters including the White Rabbit, Mad Hatter, Cheshire Cat and more. Don't miss out on this exciting production geared toward all ages.
RESERVED TICKET PRICE
Regular $24.00
12 and under $16.00

Kids age 2 and under are free but MUST still have a ticket to enter. These free tickets can be reserved online with your order, over the phone at 815-758-1225, or at the door prior to the performance.

Limited capacity is in place to meet current health guidelines.

COVID-19 Restrictions: All attendees must wear a mask covering their mouth and nose at all times while in the building; can be removed while eating or drinking in your seats. All tickets will be reserved to allow for social-distancing. Entry times will be staggered to avoid crowding. If you have any questions or concerns please contact the Theatre. A more detailed listing of current restrictions and refund policy can be found here on our website.

If you are experiencing any of these symptoms, stay home and do not attend this event:
>Cough
>Fever of 100.4 and above
>Shortness of breath
>Chills
>Headache
>Loss of taste/smell
>Muscle pain
>Shaking with chills
>Sore throat

Ticket Holder contact information may be disclosed to Health Department officials in the event of a potential exposure to assist in contact tracing.