CCT Summer Camp: Seussical Jr.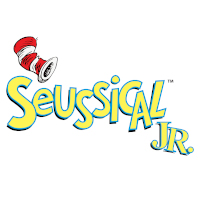 Horton the Elephant, the Cat in the Hat and all of your favorite Dr. Seuss characters spring to life onstage in Children Community Theatre's Seussical JR., a fantastical musical extravaganza from Tony-winners, Lynn Ahrens and Stephen Flaherty.

Transporting audiences from the Jungle of Nool to the Circus McGurkus, the Cat in the Hat narrates the story of Horton the Elephant, who discovers a speck of dust containing tiny people called the Whos. Horton must protect the Whos from a world of naysayers and dangers, and he must also guard an abandoned egg that's been left in his care by the irresponsible Mayzie La Bird. Although Horton faces ridicule, danger and a trial, the intrepid Gertrude McFuzz never loses faith in him. Ultimately, the powers of friendship, loyalty, family and community are challenged and emerge triumphant! Seussical JR. is great fun for the whole family!
General Admission Ticket Prices
Adult $12.00
Student discount $6.00

Kids age 2 and under are free but MUST still have a ticket to enter. These free tickets can be reserved online with your order, over the phone at 815-758-1225, or at the door prior to the performance.


COVID-19 Restrictions:
The State of Illinois moves to Phase 5 June 11, 2021 which removes capacity restrictions and social distancing. There will be no capacity restrictions or social distancing in place for this event.

Masks are now optional for patrons, staff, volunteers, and performers who have been fully vaccinated.

We ask all of those that are unvaccinated to continue to follow CDC and state guidance, the unvaccinated should continue to wear a mask and social distance. The health and safety of all who visit the Egyptian Theatre remain our top priority.

We will continue to follow enhanced safety and cleaning protocols, provide hand sanitizer throughout the building, and comply with all applicable CDC, state, and local guidelines. Guidelines and restrictions subject to change.