The McCartney Years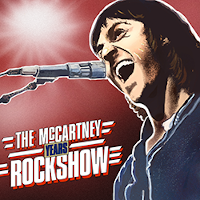 RESCHEDULED from 2021 to 2022. The McCartney Years is the premier Paul McCartney concert experience endorsed by Paul McCartney/Wings guitarist, Denny Laine and USA Beatles promoter, Sid Bernstein, who labeled the show as, "…the BEST on the scene today." The McCartney Years perform all the hits of Paul McCartney in his prime, spanning from the Beatles to Wings. This creates an experience far beyond typical Beatles-tribute band territory and appeals to a much wider, more diverse audience. Paul McCartney's music reaches so many generations of ticket buyer, and the impeccable likeness of lead singer and multi-instrumentalist, Yuri Pool, will stun audiences and leave them bursting with nostalgia.

This show is a 100% all-Paul Experience with authentic wardrobes, setlists, choreography and instrumentation. The six-piece band performs worldwide, travels with a full back line, and offers a four-piece horn section addition, reminiscent of McCartney's 1970s live tours. The McCartney Years is a period-true, technically-stunning and sonically explosive live concert experience that entertains a loyal fan base from around the world. Don't take our word for it…read their reviews on social media!
Reserved Ticket Prices
$19 / $27 / $37
Pricing based on how close to the stage you are (see seat map on next page)
Discount available for Students and Seniors 65+
All prices increase on August 9
Kids age 10 and under are free but MUST still have a ticket to enter. These free tickets can be reserved online with your order, over the phone at 815-758-1225, or at the door prior to the performance.
COVID-19 Restrictions:
Please check our
website
for the most up to date guidelines. If you have any questions or concerns please contact the Theatre.