Yellow Brick Road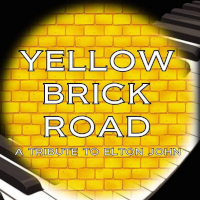 There is no other performer who looks and sounds so much like Elton John, nor any tribute act that provides the experience of being at an actual Elton John concert, the way Gerald Brann and Yellow Brick Road does. Brann not only bears an uncanny resemblance to the international superstar, complete with his mannerisms and gap-toothed smile, but he meticulously re-creates Elton John's vocals and playing to the letter. To truly capture the essence of the piano man, Brann dresses in custom-tailored replica costumes and Elton's trademark sunglasses.
TICKET PRICES
$25 / $35 / $45
Premier Seating: $55 (table seating in front of the stage with bar service)

COVID-19 Restrictions:
The State of Illinois moved to Phase 5 June 11, 2021 which removed capacity restrictions and social distancing. There will be no capacity restrictions or social distancing in place for this event.

Masks are now optional for patrons, staff, volunteers, and performers who have been fully vaccinated.

We ask all of those that are unvaccinated to continue to follow CDC and state guidance, the unvaccinated should continue to wear a mask and social distance. The health and safety of all who visit the Egyptian Theatre remain our top priority.

We will continue to follow enhanced safety and cleaning protocols, provide hand sanitizer throughout the building, and comply with all applicable CDC, state, and local guidelines. Guidelines and restrictions subject to change.