Madeleine Peyroux & Paula Cole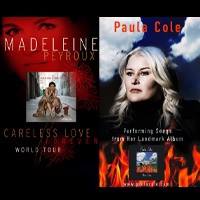 Paula Cole joins Madeleine Peyroux in the celebration of her breakthrough album, "Careless Love". Two legends, two legendary albums. On tour together.

In 1996, Paula Cole released her self-produced, second album "This Fire". It was incendiary, a double-platinum smash. The first single, "Where Have All The Cowboys Gone?" catapulted to the Top 10. Cole pushes boundaries and touches hearts and minds with her songwriting. Her live performances are movements of passion. Her second single, the anthemic "I Don't Want to Wait" dominated charts for a year and then lived again as the well-loved theme-song for "Dawson's Creek."

Madeleine Peyroux burst onto the recording scene in 1996, with her stunning debut album "Dreamland". Madeleine was greeted with a veritable torrent of gushing reviews. Most raved about her smoke-and-whiskey vocals, often comparing her to the late, great Billie Holiday. Others wondered how someone so young could perform classic songs by Holiday, Bessie Smith and Patsy Cline so convincingly as to make them sound like her own. Time magazine pronounced the groundbreaking Dreamland "the most exciting, involving vocal performance by a new singer this year."
Reserved Ticket Prices
$30 / $35 / $50 / $65
Pricing based on how close to the stage you are (see seat map on next page)


COVID-19 Restrictions:
The State of Illinois moved to Phase 5 June 11, 2021 which removed capacity restrictions and social distancing. There will be no capacity restrictions or social distancing in place for this event.

Masks are now optional for patrons, staff, volunteers, and performers who have been fully vaccinated.

We ask all of those that are unvaccinated to continue to follow CDC and state guidance, the unvaccinated should continue to wear a mask and social distance. The health and safety of all who visit the Egyptian Theatre remain our top priority.

We will continue to follow enhanced safety and cleaning protocols, provide hand sanitizer throughout the building, and comply with all applicable CDC, state, and local guidelines. Guidelines and restrictions subject to change.