Jesse McCartney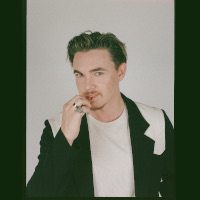 NIU CAB & 94.9 WDKB welcome JESSE MCCARTNEY with special guest Casey Baer! Since the start of his career, New York-born and Los Angeles-based singer, songwriter, artist, and actor Jesse McCartney has built a catalog of instantly recognizable anthems and captivated audiences on the road and on-screen. His first three albums—the Platinum Beautiful Soul, Right Where You Want Me, and Departure —consecutively bowed in the Top 15 of the Billboard Top 200 with the singles "Beautiful Soul" minted Gold and "Leavin'" certified Platinum. Plus, he collaborated with T-Pain on the cross-genre banger "Body Language." Along the way, he performed in arenas alongside the likes of New Kids on the Block and Backstreet Boys. A sought-after songwriter, he notably wrote the 4x-Platinum GRAMMY® Award-nominated "Bleeding Love" for Leona Lewis. In 2018, the one-off single "Better With You" racked up nearly 30 million cumulative streams and paved the way for his fifth offering. Simultaneously, his acting credits grew to include everything from Chernobyl Diaries and Fear The Walking Dead to Alvin and the Chipmunks, and even voicing the character Roxas/Ventus in gamer favorite Kingdom Hearts. In 2020, Jesse was revealed as the runner-up and popular fan favorite Turtle in the third season finale of Fox's The Masked Singer. Now, he opens up more than ever on his fifth full-length album New Stage.
Reserved Ticket Prices
$25 / $35 / $45
Pricing based on how close to the stage you are (see seat map on next page)
For questions regarding any purchased VIP packages, please reach out to info@future-beat.com.
COVID-19 Restrictions:
Please check our
website
for the most up to date guidelines. If you have any questions or concerns please contact the Theatre.