Beth Fowler Dance Company - Grease & More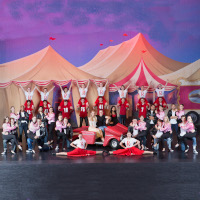 The Beth Fowler Dance Company will present a fun upbeat show with a variety of their award winning dances! This high energy show also featuring current hit songs and dance styles! The second half of the show is a real treat! Boys and girls will hit the stage with the favorite classic story of "Grease!" You will want to sing and dance along as you see the T-Birds and Pink Ladies dance to the original sound track featuring John Travolta and Olivia Newton-John! Watch Danny and Sandy bring this love story to life with a summer romance that grew into the school year at Rydell High School!
Tickets go on sale to the general public on Wednesday, April 27 at 10:00 AM.

RESERVED TICKET PRICES
Regular: $21 Adult / $15 Child 12 & Under
Premium: $26 Adult / $20 Child 12 & Under

Starting June 6
Regular: $24 Adult / $15 Child 12 & Under
Premium: $29 Adult / $20 Child 12 & Under

Kids age 3 and under are free but MUST still have a ticket to enter. These free tickets can be reserved online with your order, over the phone at 815-758-1225, or at the door prior to the performance.

COVID-19 Restrictions: Please check our website for the most up to date guidelines. If you have any questions or concerns please contact the Theatre.