JC Cole & Folsom '68: Johnny Cash Tribute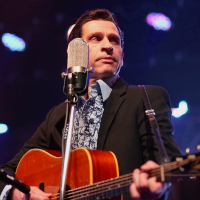 JC Cole and Folsom '68 is the definitive Johnny Cash Tribute. So realistic in both sound and look that they've been endorsed by the Cash family members and former members of Johnny's own band. Seeing this show is akin to re-visiting a special time in history with one of the legends of music and pioneers of both country and rock.. performed LIVE again with perfect detail. Recommended by Johnny Cash family members: Joanne Cash Yates (Johnny's sister), Cindy Cash (Johnny's daughter), Mark Allen (Johnny's nephew). Endorsed by Thomas Gabriel (Johnny's oldest grandson). Endorsed by Johnny Cash Band members: Earl Pool Ball (Pianist 1977-97) and Johnny's bassist for 13 years, Dave Roe!
Reserved Ticket Prices
$25 / $30 / $40
$5 discount for kids, students, and seniors 65+
$65 Premier Table Seating (cocktail tables in front of the stage that includes bar service)

Ticket prices increase July 1 at 10:00 AM.

Pricing based on how close to the stage you are (see seat map on next page)

COVID-19 Restrictions: Please check our website for the most up to date guidelines. If you have any questions or concerns please contact the Theatre.