BritBeat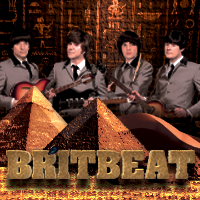 Take a trip back in time with a fantastic journey through the days of Beatlemania with BritBeat's multimedia concert journey through Beatles music history. See why this nationally acclaimed Beatles show is captivating audiences and generating rave reviews from critics and Beatles' fans from around the world. Step into a time machine and experience a remarkable and propelling recreation of the Fab Four in concert during the fabulous 1960s. With magnificent attention to detail, six dazzling costume changes, exquisite musicianship, powerful vocals, and a spectacular, stunning, and immersive multimedia backdrop, you will experience an engaging and electrifying trip through the iconic music catalog of the band of the century, the Beatles.
Reserved Ticket Prices
$25 / $35 / $45 / these 3 price tiers offer a $5 discount for students
$65 (premier tables in front and include bar service)
Pricing based on how close to the stage you are (see seat map on next page)
COVID-19 Restrictions: Please check our website for the most up to date guidelines. If you have any questions or concerns please contact the Theatre.