Mavis Staples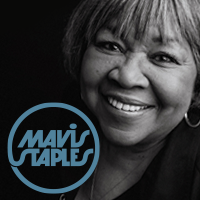 Hailed by NPR as "one of America's defining voices of freedom and peace," Mavis Staples is the kind of once-in-a-generation artist whose impact on music and culture would be difficult to overstate. She's both a Blues and a Rock and Roll Hall of Famer; a civil rights icon; a GRAMMY Award-winner; a chart-topping soul/gospel/R&B pioneer; a National Arts Awards Lifetime Achievement recipient; and a Kennedy Center honoree. She marched with Dr. Martin Luther King, Jr., performed at John F. Kennedy's inauguration, and sang in Barack Obama's White House. She's collaborated with everyone from Prince and Bob Dylan to Arcade Fire and Hozier, blown away countless festival goers from Newport Folk and Glastonbury to Lollapalooza and Bonnaroo, performed with The Band at The Last Waltz, and graced the airwaves on Fallon, Colbert, Ellen, Austin City Limits, Jools Holland, the GRAMMYs, and more.
Reserved Ticket Prices
$45 / $55 / $75
$100 Premier tables in front of the stage with bar service

Pricing based on how close to the stage you are (see seat map on next page)

COVID-19 Restrictions: Please check our website for the most up to date guidelines. If you have any questions or concerns please contact the Theatre.