Performing Arts Academy - Flying Through the Snow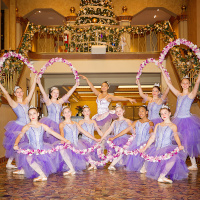 Join us flying to new heights through the ice and snow. Tight wire, trapeze, aerial silks, aerial hammock and lyra hoop will be a part of this spectacular event. Our artists will wow you with their amazing strength and beautiful technique. Our annual winter performance is a must see for all ages!
Reserved Ticket Prices
Tier One - Adult $25 / Senior 65+ $23.50 / 12 & under $19
Tier Two - Adult $23 / Senior 65+ $22 / 12 & under $17
Tier one seats are the closest to the stage.
Ticket prices increase on December 1.
Kids age 3 and under are free but MUST still have a ticket to enter. These free tickets can be reserved online with your order, over the phone at 815-758-1225, or at the door prior to the performance.