GO NOW!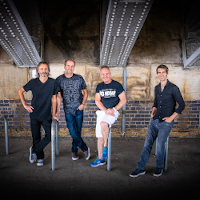 GO NOW! – The Music of The Moody Blues is the brainchild of drummer Gordy Marshall. Gordy toured with The Moody Blues for 25 years. Along with Mick Wilson (known as lead singer of 10cc), the two musicians have brought together some of the very best singers and instrumentalists in the country to create the ultimate tribute to the greatest classic rock band of a generation.
Hit songs such as Nights in White Satin, Tuesday Afternoon, Go Now and Isn't Life Strange are beautifully recreated live, and sound as close to the initial recordings as you will ever hear.
Reserved Ticket Prices
$35 / $45 / $55
Premier Table Seating $65 (Seating at tables in front of the stage with bar service)

Pricing based on how close to the stage you are (see seat map on next page)

COVID-19 Restrictions: Please check our website for the most up to date guidelines. If you have any questions or concerns please contact the Theatre.