Dimensions Dance Academy - Coppelia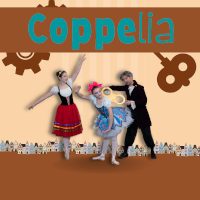 Coppelia is a charming, funny and comical ballet for all ages! The story is about a girl named Coppelia who sits on her balcony all day reading and never speaking to anyone. A boy named Franz falls deeply in love with her and wants to marry her, even though he is already engaged to another woman. His fiance, Swanilda, soon learns that Coppelia is actually a doll belonging to Dr. Coppelius, the mad scientist. She decides to impersonate the doll in order to win the love of Franz. Chaos ensues, but all is soon forgiven. Swanilda and Franz make up and get married after all.
Reserved Ticket Prices
Adult - $24
Children 12 & under - $16

Kids age 2 and under are free but MUST still have a ticket to enter. These free tickets can be reserved online with your order, over the phone at 815-758-1225, or at the door prior to the performance.

COVID-19 Restrictions: Please check our website for the most up to date guidelines. If you have any questions or concerns please contact the Theatre.