Pat Tomasulo Show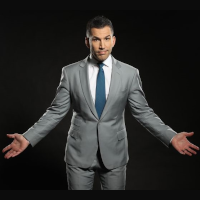 Pat Tomasulo is a Chicago-based stand-up comedian, TV host, actor and podcaster. One of the top headlining acts in Chicago, his very first one-hour comedy special, "What A Time To Be Alive," was released in early 2022. You can also see and hear him weekly on "The Pat Tomasulo Podcast," one of the highest-charting podcasts on Apple's "Stand-Up Comedy" podcast rankings. You can see Pat every morning as one of the hosts of the WGN Morning News, the highest-rated AM news program in Chicago for over 10 years running. Other TV credits include guest host and contributor to "LIVE! With Regis and Kelly," and co-host of "Shaq Vs," an ABC primetime reality show featuring basketball superstar Shaquille O'Neal. Pat is also the creator and host of "Laugh Your Face Off," an annual comedy benefit that has raised over $2.6M for The Facial Pain Research Foundation, a group that funds research to cure trigeminal neuralgia, a rare pain condition his wife, Amy, suffers from.
Reserved Ticket Prices
$37 / $42
Premier Table Seating $47 (Seating at tables in front of the stage with bar service)
Pricing based on how close to the stage you are (see seat map on next page)
COVID-19 Restrictions: Please check our website for the most up to date guidelines. If you have any questions or concerns please contact the Theatre.