Dimensions Dance Academy - Encore!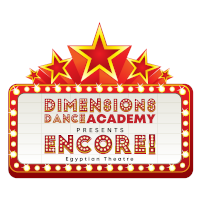 Encore! Dimensions Dance Academy is celebrating their 10 year anniversary by highlighting many of their favorite dances and pieces from the past. Come enjoy a high energy performance taking you through the Evolution of Dimensions! They will have a special guest of honor, the one and only Miss Debbie Jones! Celebrate and reminisce with her at the reception following the Saturday matinee performance. You will not want to miss this one time event!
RESERVED TICKET PRICE
Premium $35 Adults / $12 Kids 12 & under
Regular $25 Adults / $12 Kids 12 & under

Premium seats are the seats closest to the stage.

Kids age 3 and under are free but MUST still have a ticket to enter. These free tickets can be reserved online with your order, over the phone at 815-758-1225, or at the door prior to the performance.