Gaelic Storm & The High Kings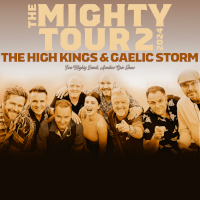 Gaelic Storm and The High Kings join forces for THE MIGHTY TOUR 2. Both bands have graced the stage at the Egyptian Theatre, but this will be the first time together. Fans of both bands won't want to miss this spectacular evening of celtic music.

Gaelic Storm is a multi-national, Celtic juggernaut that grows stronger with each live performance, and as you can imagine, after two decades and over 2000 shows, it is a true force to be reckoned with. Their career thus far has them topping the Billboard World Chart six times, making appearances at mainstream music festivals, and regularly headlining the largest Irish Festivals across the country, all the while gaining a reputation as a genre-bending Irish rock band, whose songs mix Celtic traditions with something uniquely creative.

The High Kings are renowned for their captivating harmonies and timeless melodies. Having already surpassed 1.5 million monthly listeners on Spotify as well as 2 platinum albums in their time, 2023 saw The High Kings celebrate 15 years together by releasing 15 brand new tracks to their fans, as well as the release of their, 8th Studio Album The Road Not Taken. The album is a collection of original songs that breathe new life into traditional folk music, blending the old with the new.
Reserved Ticket Prices
$45 / $55 / $85
Pricing based on how close to the stage you are (see seat map on next page)