Chris Funk – THE WONDERIST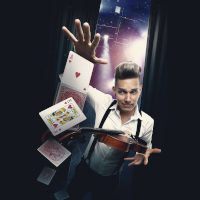 Chris Funk's REDEFINING WONDER is an engaging and visceral multimedia experience that has audiences talking and scratching their heads for years to come. Finally, a MAGIC SHOW WITH LIVE MUSIC! Chris has pioneered the use of instruments like the violin, guitar, flute and more into his illusions. His parents wanted him to be a musician, but he wanted to be a magician. Chris tells his story on how he integrated his love for music and magic in a show unlike any other. Whether it's a violin concerto to a magical dancing sheet of music to impossibly suspending various instruments on stage, his show is in a league of its own. The live-feed camera and interactive videos bring audiences up onstage and into the action, delivering a show that family audiences can call their own.

From NBC's America's Got Talent, CW's Penn & Teller: Fool Us & Masters of Illusion, FOX's Hell's Kitchen and Syfy's Wizard Wars, his unique approach to magic has garnered him performances at Las Vegas' Planet Hollywood, Mandalay Bay, Rio, and Tropicana casinos as well as residencies at Disney. In addition to his own touring, Chris has starred in major touring magic productions Masters of Illusion LIVE. Chris' show has garnered standing ovations and a reputation for excellence.
AMERICA'S GOT TALENT - SIMON COWELL
: "BEST MAGICIAN we've had on the show so far! I've NEVER seen anything like that!"
PENN & TELLER
: "There's a WILDNESS and beauty to Chris Funk's daft and funny presence that we - and the audiences we've seen him with – find IRRESISTIBLE." PENN & TELLER
Reserved Ticket Prices
$25 / $35 / $45
$5 discount for kids and students
Pricing based on how close to the stage you are (see seat map on next page)