Beth Fowler Dance Company - A Storybook Ballet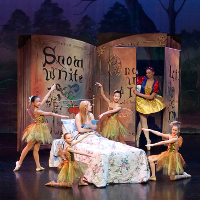 The Beth Fowler Dance Company presents this original ballet. Young Marie is too excited to sleep so her mother reads her a bedtime storybook. After her mother tucks her into bed and leaves, little Tinkerbell Fairies fly in as Marie's bedroom transforms into Snow White's Forest! Her storybook comes to life as it magically grow 10 feet tall! The storybook characters emerge from the pages telling the stories of Snow White, Little Mermaid, Aladdin, and Beauty & the Beast. The elaborate scenery sets will take the audience on a journey through many enchanted places leaving Marie to wonder if it is all just a dream!
RESERVED TICKET PRICES
Regular: $21 Adult / $15 Child 12 & Under
Premium: $26 Adult / $20 Child 12 & Under

Starting March 13, 2023
Regular: $24 Adult / $15 Child 12 & Under
Premium: $29 Adult / $20 Child 12 & Under

Kids age 3 and under are free but MUST still have a ticket to enter. These free tickets can be reserved online with your order, over the phone at 815-758-1225, or at the door prior to the performance.

For not-for-profit groups (church, scouts, etc.) of 10+ please contact the box office for discounted group tickets.

COVID-19 Restrictions: Please check our website for the most up to date guidelines. If you have any questions or concerns please contact the Theatre.